HOSPITALITY | FEATURED PRODUCTS | TALK TO US
Body Solid equipment is a great fit for hotel and resort fitness facilities, offering hotel chains and independent owners great quality equipment with a great value. As today's health and fitness awareness grows, it is important for hotels and resorts to offer travelers the ability to stick to their routines and get a great work out while away from home. Body Solid knows that there are many deciding factors in selecting equipment for hotel and resort fitness facilities and many of these factors make Body Solid equipment a hospitality industry standard.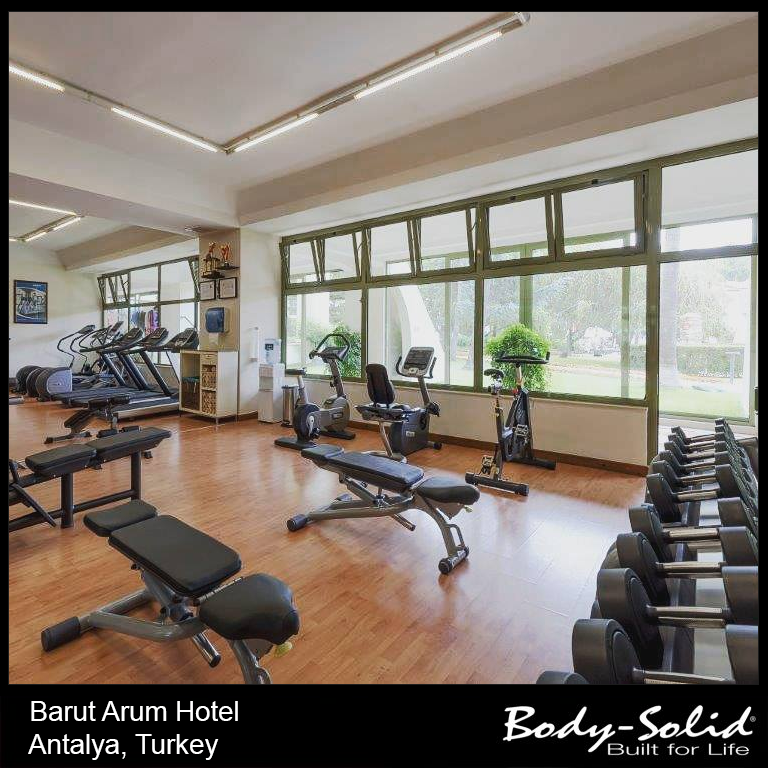 Barut Arum Hotel
| Antalya, Turkey
Barut Arum, part of the larger collection of Barut Hotels, is located in Antalya, Turkey just off Turkey's southern Mediterranean coast. The region is called "Turquoise Coast" and one look at the stunning views and radiant water will let you know why the name is so fitting. The new fitness center is one of many great amenities at the Barut Arum Hotel including a full gym, tennis court, mini golf, multiple restaurants, spas and much more. For more information on the Barut Arum Hotel, visit them at baruthotels.com/en/arum.
Holiday Inn & Suites
| Bloomington, IL
The Holiday Inn and Suites located at 3202 East Empire St in Bloomington, Illinois features a full range of Body Solid Strength and Endurance Cardio products. The 24 hour fitness room, renovated in 2007 , features the modern design of the G9S Commercial Gym , two durable T10 treadmills and the comfortable B3R recumbent bike. This facility was designed, delivered and sold through Stellar Orthopedics in Bloomington , Illinois.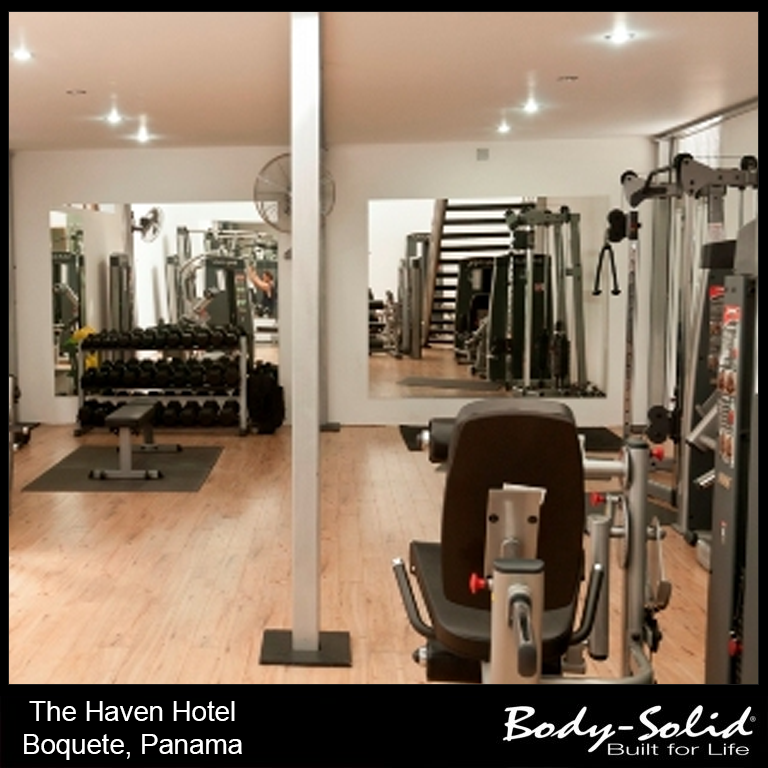 The Haven Hotel & Spa | Boquete, Panama
The Haven Hotel & Spa is located in Boquete, a small town on the Caldera River, in the green mountain highlands of Panamais. On two levels, this luxury Hotel and Spa features a wide range of fitness and cardio machines for its guests. 10 of the latest Body Solid pro dual body work stations which gives one over 20 exercise options as well as 10 Endurance Cardio treadmills, bikes and ellipticals. These machines provide a quality , smooth action to work all the major muscle groups of your body. This is complimented with a good selection of free weights.
www.http://boquetespa.com/gym/