APARTMENTS & CONDOS | FEATURED PRODUCTS | TALK TO US
Body Solid equipment is a great fit for apartments and condominiums, offering chains and independent owners great quality equipment with a great value. As today's health and fitness awareness grows, it is important for apartment and condos to offer residents the ability to stick to their routines and get a great work out.
Whether its space limitations, a tight budget, or just looking for great product, Body Solid manufactures a wide selection of high quality equipment to satisfy even the highest requirements.
From space saving single and multi-stack gyms to cardio, benches and iron, Body Solid can complete every aspect of your fitness requirements. In today's competitive market, buyers have many choices. Let Body Solid help you and your residents make that choice easier by offering quality fitness equipment in your apartment or condominium fitness room.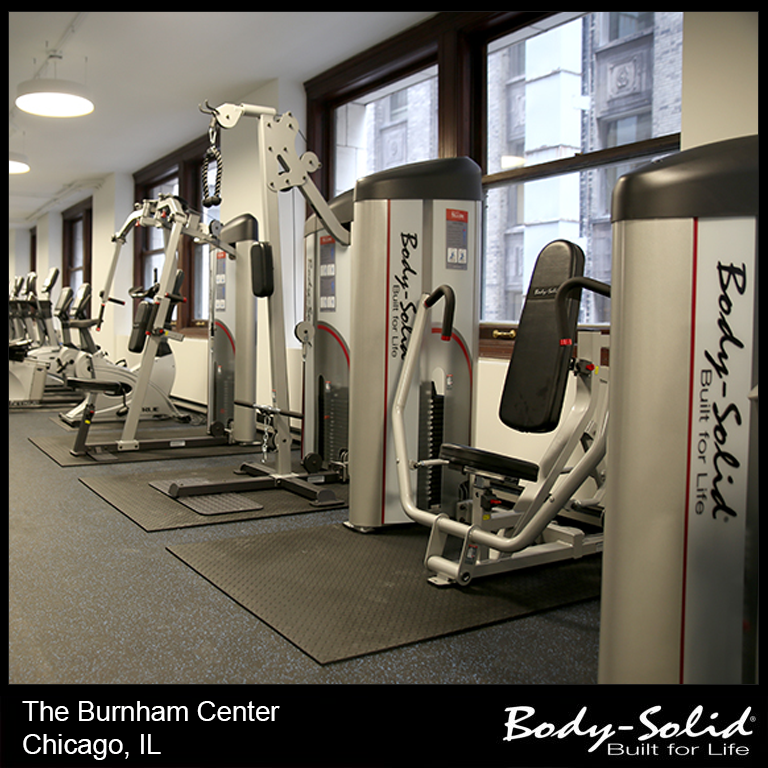 The Burnham Center
| Chicago, IL
We were excited to see photos of Body-Solid equipment installed in the brand-new fitness center at the Burnham Center. The Burnham Center, a 1912 building by famed architect Daniel Burham, is located in the heart of downtown Chicago on Washington Street. Located on the 13th floor, this tenant-only, newly designed fitness centers provides state-of-the art fitness equipment, a private yoga studio, and fully-amenitized locker rooms, allowing The Burnham Center tenants to get a workout in without ever leaving the building.
Countryside Village Apartments
| Hooksett, NH
Hooksett, New Hampshire-based Fittrax Fitness Systems shared a number of photos from a recent installation at the Countryside Village Apartment Homes in Manchester, New Hampshire.
The complex updated their fitness room with a handful of Body-Solid products including dumbbells, Body-Solid's GDCC210 Functional Training Center and the cornerstone of the updated facility: Body-Solid's G9S Dual-Stack Multi-Station Gym.