Dealer Corner | Aug 2015 | Body-Solid Pro Select

ISSUE NO. 74

August, 2015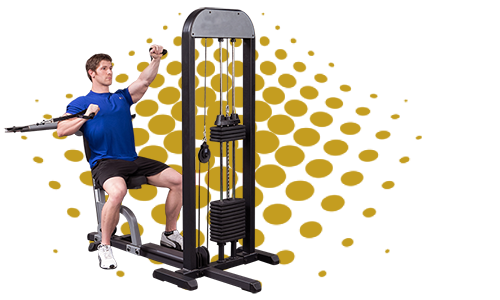 Body-Solid's Pro Select line consists of seven multi-function selectorized stations: inner/outer thigh, leg / calf press, multi-functional press, ab/back, biceps/triceps, leg extensions/leg curl and weight-assisted chin-dip. Perfect for light commercial, training studio and home workout applications. Selectorized machines offer great function with a high degree of safety.
Less than half the price of most selectorized machines, the Pro Select line offers a unique value while maintaining advanced biomechanics and superior quality. An ideal fit for any exercise room or facility , the Body-Solid Pro Select line is designed with the quality and function of more expensive machines at a value only Body-Solid can offer.
7 multi-function stations
Light Commercial Rated
Space-efficient designs
Cost-effective equipment

DuraFirm Pads
Available in 210lb. and 310 lb stacks
11-gauge, 2"x3" construction
This unique dual function machine allows you to exercise two major muscle groups (abdominals and back) for one great low price. This innovative commercial design has a full range cam design with an
easy to use pop pin that allows an additional 20 adjustments to increase control and range of motion.
A 7 position , fully upholstered leg pad brace allows additional isolation of abdominal and back muscles.
#GCBT-STK Biceps & Triceps Machine

This unique cam design features intelligent dual function capabilities for the price of one. The bicep
tricep machine features a wide range of adjustability from a 7 position seat adjustment to 28 different
starting positions ensuring full range of motion. The bicep curl pivots and rotates to accommodate
forearm length while reducing wrist stress. Positioned at a 30 degree angle the arm stabilization pad
allows proper joint alignment without elbow pressure on the pad.
#GIOT-STK Inner & Outer Thich Machine

Trim and tone those trouble spots with the Inner & Outer Thigh Machine. Do both abductor/adductor
exercises from one seated position. 5 range of motion adjustments accommodate users of all sizes.
A lumbar supported adjustable back pad, swiveling knee pads and no cable change design provide
the quality, comfort and ease of use necessary to achieve great results.
#GLP-STK Leg & Calf Press Machine

Double beam design eliminates ankle stress and provides consistent resistance throughout full range
of motion. Pivoting press plate rotates both forward and downward to target thighs, hamstrings and
glutes. Extra large, extra wide, non-slip rubber covered press plate will handle the big guys. It's built
for safety, comfort and exercise variation.
#GCEC-STK Leg Ext. & Curl Machine

This most versatile leg machine performs the two most important leg exercises from one comfortable
position. The fully adjustable 7-guage steel cam maximizes range of motion capabilities with a
biomechanically correct seat angle for proper isolation of muscle groups.
#GMFP-STK Multi Functional Press

The ProSelect Multi-Functional Press is the most versatile selectorized piece in the Body-Solid line.
With built in functional training arms, the GMFP-STK allows for vertical chest presses, incline and
decline presses from a adjustable seated position. Then move to the opposite side and perform
standing shoulder presses. Outfitted with 180 degree rotating pulleys, this multi press unit can
accommodate a swiss ball for stability exercises. This uniquely designed piece is perfect for any
home and light commercial application.
#FCD-STK Weight-Assisted Chin & Dip

By doing pull-ups chin-ups and dips, you can effectively and efficiently build muscles in your arms,
shoulders and back. Add vertical knees raises, and you'll soon see an increase in definition of your
lower abdominal muscles. Best of all, the benefits of these exercises can be enjoyed by fitness
enthusiasts of all skill and strength levels.

© Body-Solid, Inc. | 1900 S. Des Plaines Ave. | Forest Park, IL | 60130 | www.bodysolid.com