New Lifting Bands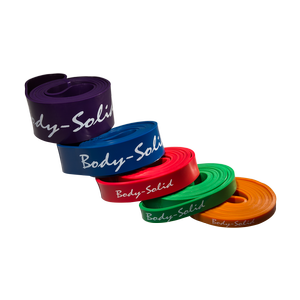 BODY-SOLID INTRODUCES NEW LIFTING BANDS

The Body-Solid Tools accessory line continues to expand with the introduction of the NEW Body-Solid Lifting Bands (BSTB1,2,3,4,5). Each Band is suited towards a particular fitness routine such as speed/agility training, jumping, flexibility, stretching, plyometrics, rehabilitation, and power lifting. These 41' bands are a cost effective and simple way to add intensity to any training routine.

Why use lifting bands? - Lifting bands offer a contrasting method in an exercise program where the weight resistance changes at different points in a lift. Using bands will make the weight increase through the concentric and eccentric portions of a lift that will result in greater speed and acceleration. In addition, bands will benefit starting strength and lockout ability on presses and squats.

Not just for power lifters. The BSTB1 and BSTB2 are best used for general conditioning, stretching, rehabilitation, jumping, aerobics and for increased resistance towards bicep /tricep exercises. Either band works well for beginners and novice weightlifters.

For stronger bench presses and lower body exercises, the BSTB3 and BSTB4 work well in particular with the new SMR1000 Body Solid Multi Rack System.

For obtaining maximum resistance using squats, deadlifts, leg presses and shrugs, the BSTB5 is our top of the line band.