G5S Consumer's Guide Budget Buy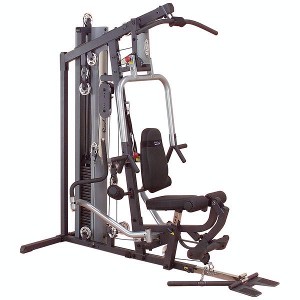 The G5S Home Gym from Body-Solid has a wide array of special features that make this a great Budget Buy. It could have been just as easily ranked as a Best Buy, but for its most competitive price point.

Consider this: The Pec fly station has pivoting handles, there's a bearing pivot point for press bar for smoother motion, and for certain comfort, the G5S has a gas-assisted seat adjustment. For working out on the low pulley station, just flip the footplate, and for constant monitoring of your conditioning, the G5S provides ergonomic grips (thicker for pressing, thinner for pulling) that are also angled to provide perfect wrist alignment for bench presses, incline presses, shoulder presses, and mid-rows.

The G5S features a self-aligning cuff for the leg developer, and the 210-pound stack can be upgraded to 260 pounds. Plus the G5S allows offers a Customized Aluminum pulley upgrade for keeping fit. Also included with all Body-Solid home gyms is a free workout DVD to help you get started right away.